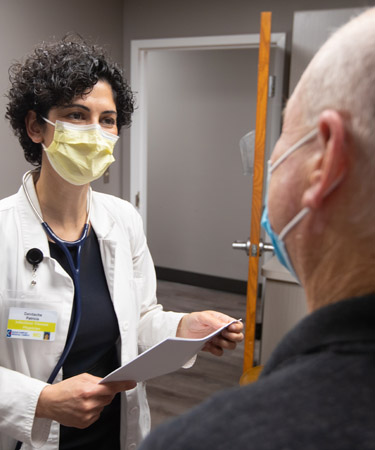 What is an ID Doctor?
An Infectious Diseases (ID) specialist is a doctor of medicine, who has received at least three years of training in internal medicine (adult medicine) and then at least an additional two years of training in the areas of infection. The ID physician has been trained to diagnose and treat a wide variety of infections in adults and adolescents. Most ID specialists have become master diagnosticians, searching for clues to identify the cause of complicated illnesses, and have become skillful in carefully treating patients who have become infected.
ID doctors use a variety of tools to diagnose and treat infections. The most important part is establishing trust and a rapport with the patient. Our doctors take the time to get to know a little about our patients, and to fully understand the illness and its symptoms. Our doctors take the time to examine our patients, and only order essential lab tests or x-rays. Sometimes a diagnosis can become clear after a taking a history and performing a physical examination. Other times, the lab tests yield a diagnosis. Sometimes a series of diagnostic tests are needed. ID physicians often search for the cause of infections with a culture from a body fluid such as blood, urine, or other secretions. The doctor may search for bacteria, viruses, fungi or even parasites. Other times, they look for the body's response to infection, such as the presence of antibodies to certain germs, as clues to the presence of a recent infection. Often the results of these tests are used to determine the best treatment. After treating an individual with an infection, the ID physician often schedule a follow-up visit to ensure that the infection has responded favorably to treatment.
Insurance coverage
Always Check with Your Insurance Company to See If You Need a Referral for Our Services.
IDP currently has contracts with the health insurance companies listed below. But referral requirements can differ for each one and in certain cases for different patients.
To help the IDP team provide the best care and patient service, please make sure you, your parent, your guardian, or your caregiver confirm if a referral is needed before making an appointment.  Thank you.
Aetna
Aetna Signature Partners
Anthem Blue Cross Blue Shield to include Anthem Healthkeepers Plus
Blue Cross Blue Shield FEP
Care First Blue Cross Blue Shield to include Blue Choice
Cigna/Great West
Guardian
Humana
In Total Health
Virginia Medicaid plan
Medicare
PHCS (only Dr. Poretz, Dr. Wheeler, and Dr. Ambardar)
Travelers
Tricare

Tricare Standard or Prime may require a referral; please check with your insurance
Tricare for Life does not require a referral

United HealthCare
United HealthCare Medicare
Virginia Health Network
Our Billing Office Can Be Reached At 703-641-4616